A BLOG POST BY DR. MELODYE HILTON
Politics and parties aside, I write today from my heart, my experience, and my passion for true justice. I am a proud citizen of a country who prides itself on being a land of freedom and a home for the brave. With this in mind, I recognize that the legal rights of our nation's citizenry are so often toted—even shouted—perhaps at the very expense of those doing the shouting. The fact is that just because it is one's right does not necessarily mean that these rights are appropriate or beneficial for the participant or for the cause they claim to defend.
In recent months, I've watched the angry protests throughout our nation's beautiful cities, the riots at UC Berkeley, the critical attacks from talk show hosts, celebrities, politicians, business leaders, news networks, and more. I have witnessed different ideologies divide people making enemies of once lifelong friendships. It saddens and concerns me to see that the culturally accepted attitude has become one of competition and resistance rather than collaboration and partnership. Whether I agree or disagree with someone's beliefs and their legal rights to voice them, the real question should be: are these attitudes and actions genuinely expedient?
As an example, I look at women's rights. As a woman and as a human being, I believe in and value women's rights. I believe that we have a constitutional right to protest, march, and be a voice for women. In the 70s, I was a women's-libber. When I talk about that season of my life I jokingly say that, "I burned my bra when I didn't even need to wear one." I was a young woman screaming for women's freedom from the soil of my unhealed heart. From inside the beltway of our nation's capital, working for the FBI and in the heart of a cultural movement, in every way I knew how, I was fighting for what I thought was justice. The reality I didn't see then, however, was that my efforts to fight for freedom were only fertilizer upon seeds of painful memories from a childhood of hidden sexual abuse. I was crying out for protection and validation, but I didn't know how to obtain it. My voice of private anger was directed towards men—my perpetrators and the societal authority that allowed it—rather than fighting for genuine equality and partnership.
I see so many today, who like me all those years ago, are fighting for a cause out of the heartache conceived from the pain of their own past. I also see how the courts of public opinion are shaping the beliefs and actions of a grieving population. I see the outward demonstration of an internal battle through every sign and symbol, every vulgar word, act of hatred or intolerance, and prejudice displayed to anyone who does not carry their exact message of "equality."
Perhaps the law of the land supports these rights of protest and so-called freedom, but is it expedient? Is it actually beneficial to the cause or to the internal emotional health of its participants?
Objectively speaking and founded in hard science, we know that every thought produces emotion, attitude, mindsets, and ultimately action. Any fear-based thought releases harmful chemicals that are damaging to the mind-brain and the physical body of the person who speaks, as well as those who accept what is spoken. As a result, this toxic neural-memory increases sensitivity to harmful thoughts and damaging emotions. This is outwardly visible through anger, hatred, fear, and a sense of powerlessness or victimization, compulsive behaviors, and even criminality.
Because of fear-based, toxic thoughts over many years, the internal personal realities of so many are being displayed through a guise of protest. These angry outbursts do not happen because of an event or even a higher cause, but through a fear-based reality which gave it voice.
"Your brain creates your reality. It is not what happens to you in life that determines how you feel; it's how your brain perceives reality that makes it so."  Daniel G. Amen
This contemporary cultural craze of hate-fueled protest cannot heal the land or unite a nation. Rather, it is damaging to those who have participated and have supported these efforts. Scientifically speaking, we cannot speak hatred without experiencing prejudice and propagating a false narrative.
"We are critical of what we do not understand and attack what we are afraid of." Dr. Melodye Hilton
Neuroscience clearly reveals the movement in every DNA strand in our physical body—positively or negatively—via our thoughts and actions. I am grateful for democracy, but what I am witnessing today will not heal. These thoughts and actions will only accelerate the negative and toxic mindsets in an already hurting populace. I ask you, how can this lead a generation to productivity, work ethic, personal responsibility, or healthy relationships? How can this heal?
The anger of my women's liberation days kept me toxic. It wasn't until I chose to see myself separate from my experiential reality that I began to recognize that I carried an internal strength to be the best I could be in every situation. I was then compelled to do what was right despite the wrongs in the world. I have learned the greatest way to fight—to do justice—for myself and others is to cross the great divide and build bridges rather than burn them in the fire of anger, or even fear.
If we are going to start a revolution or movement, let it be fruitful in building healthy minds, cultivating strong relationships, and becoming carriers of hope, validating our fellow man. We have the power internally to choose extravagance by giving honor, taking time to understand, and modeling before others a heart for their good.
From one leader to another,
Dr. Melodye Hilton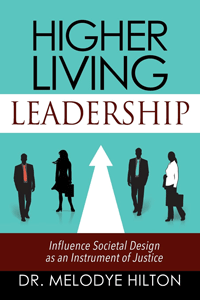 Higher Living Leadership Book
Higher Living Leaders live authentically and passionately through embracing their personal value and power to positively transform cultures. The way of Higher Living Leadership is rich in value for leaders of all spheres of influence. Dr. Melodye Hilton has developed and packaged a series of concepts and principles from years of experience in training and consulting powerful leaders. Individuals are guided to discover their validation quotient-the attributes that unleash personal leadership value, generate it in others, and positively transform culture. Whether leading a small family or an entire nation, this values-driven content is excellently presented in a balance of relevant information and practical application that can revolutionize the way you view and apply leadership.