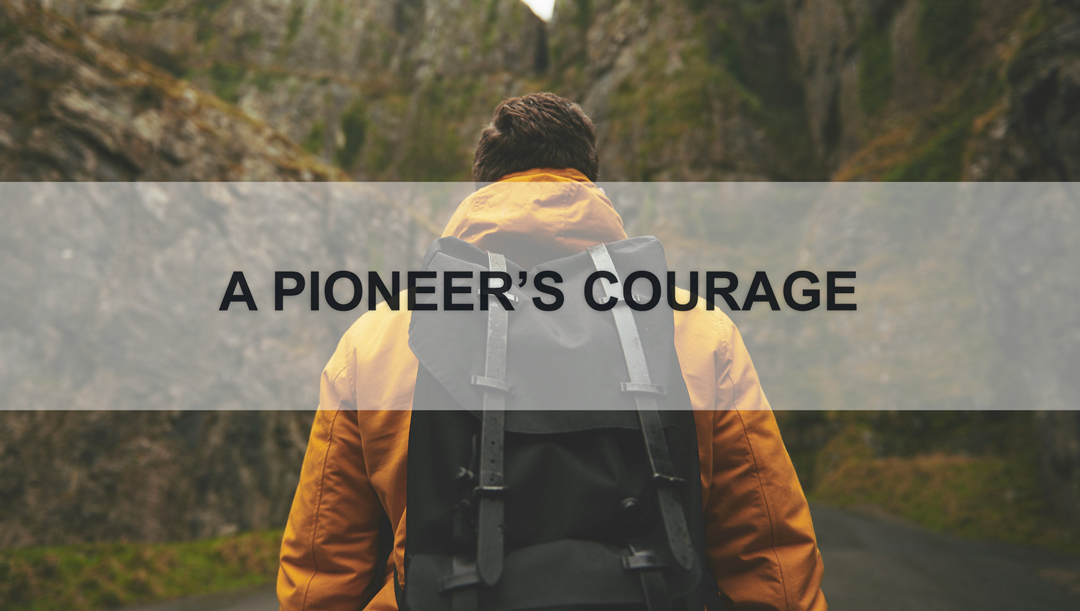 I love the factual accounts of courageous American pioneers as they settled and developed western territories. I learn from the brave instruments of social justice throughout history as well as the behind the scenes stories of present-day leaders who actually care for society's good. No matter what time in history, pioneers face fear's tyranny; they also embody a determined belief that they can accomplish more while serving humanity in a greater or more significant way.
While I lived in the anti-establishment hippie days of "if it feels good, do it," love child subculture, it could never seduce me into its foolishness. Though many thought they were heralding a cause, it was selfish and irresponsible by its very nature. My heart longed to be different, but only in order to make a difference. I never wanted to be average, but only to give my life for a higher cause. No matter what I faced there was a fight inside of me to break off the mindset of, "look out for number one," or "get them before they get you"—the unspoken ideologies of Washington D.C. living.
I didn't realize that a pioneering spirit dwelled innately inside of me. Forty years have come and gone and that mindset continues to propel me forward to take the road less traveled.
Our world is filled with present-day pioneers, innovators, and those willing to lead the way.
What are some of the courageous attributes of these present-day forerunners?
Courage to step out of self-comfort to build a road for others to travel.
You are willing to pay a higher price, suffer personal loss, and work when others are playing. You're not angry because of your sacrifice because you know that one day others will benefit.
One of my heroes is William Wallace, a Scottish commoner who fought against the invasion and tyranny of England. He bravely stood before the nobles of Scotland as they protected their wealth and comfort saying, "There's a difference between us. You think the people of this country exist to provide you with position. I think your position exists to provide those people with freedom. And I go to make sure that they have it."
Courage to stand to your feet when circumstances knock you down.
We always see ourselves achieving the goal in the future. However, when our journey is riddled with disappointments, failures, and unforeseen setbacks, fear's tyranny penetrates our hearts with great forcefulness. This is common to life, but the uncommon pioneer will get back up on their feet. Think about it—you can't stay down when who you are and what you carry is at risk.
In July of 1969, Commander Neil Armstrong of Apollo 11 is credited as the first man to walk on the moon. When Apollo 11 was brought into the gravitational pull of the moon their report was, "Houston, we are committed." What was communicated was that there was no turning back now; they would have to land. Pioneers recognize the commitment that they have made and complete their journey no matter what.
 "Your defining moment may arrive just when you feel surrounded by adversity." Lee Colan
Courage to be different.
A pioneer is not in competition to be the best but to be individually distinctive. They do not live in comparison but release the gift within themselves to impact the lives of others. They do not need to put another down in order to lift themselves up nor be critical of another to feel better about themselves. They are being true to who they are and to their cause.
Courage to be criticized.
Theodore Roosevelt said it best, "It is not the critic who counts; not the man who points out how the strong man stumbles, or where the doer of deeds could have done them better. The credit belongs to the man who is actually in the arena, whose face is marred by dust and sweat and blood, who strives valiantly; who errs and comes short again and again; because there is not effort without error and shortcomings; but who does actually strive to do the deed; who knows the great enthusiasm, the great devotion, who spends himself in a worthy cause, who at the best knows in the end the triumph of high achievement and who at the worst, if he fails, at least he fails while daring greatly. So that his place shall never be with those cold and timid souls who know neither victory nor defeat."
Courage to be misunderstood and alone.
Every human being is wired to be loved and valued as it fosters emotional health and security. However, a pioneer may experience the exact opposite on their tour of duty. It takes great courage to remain steadfast when no one can see what you see or value what you are doing. Sometimes a pioneer does not have a language to articulate what they know on the inside. Others may never understand the depth of love they carry or the hate of injustice they feel that propels them to action.
"The person who follows the crowd will usually go no further than the crowd. The person who walks alone is likely to find himself in places no one has ever seen before." Albert Einstein
The title, A Pioneer's Courage, drew you to read this because within you, you hold a passion to chart new territory, to take the road less traveled, and to impact your world for good.
From one leader to another,
Dr. Melodye Hilton